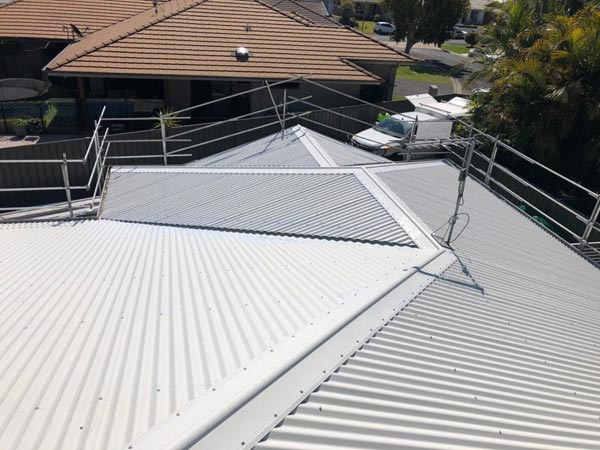 Colorbond Metal roofing is the most sought-after roofing solution by Ferny Grove customers for its stunning look and long-lasting capability. Ferny Grove High-End Roofing solutions have various outstanding Colorbond metal roofing products that adapt to crucial weather conditions of Ferny Grove. For over 20 years, we are the leading roofing contractors providing ultra-modern Colorbond roofs to all suburbs of Australia.
Assuring great value for money, our products include colorbond roofing, metal roofing, and all types of repair services for Ferny Grove customers. Proper roofing is mandatory to protect your assets, can be repairing, restoring, or installing a new roof. Investing in Ferny Grove High-Ends' metal roofing you can experience long-term benefits while protecting your family and home.
With various designs, such as a curved, ridge, and straight sheets integrated with striking colors to suit traditional, heritage, residential, or commercial roofs of Ferny Grove. Over 20 colors in COLORBOND roofing, you can opt for your favorite color to give the perfect sight for outdoor buildings. As a highly-professional team, we use COLORBOND® steel from Blue scope for excellent strength. With a team of skilled builders and talented subcontractors, we ensure to utilize colorbond roofing for Ferny Grove families. Fireproof or incombustible is the key feature offered by COLORBOND metal roofing, which means it has the capacity to endure lighting during severe storms. Despite the change in climate, colorbond roofing makes sure that the color remains intact for years.
Metal roofing in Ferny Grove with Steels and metal are the best and robust tiles to suit the harsh climate of Ferny Grove. Metal roofing become sturdy as they bake in the sun, while terracotta has a unique blend of colors to give a contemporary look. As an experienced roofing contractor, we create custom-built roof metal and assure a warranty of more than a decade. We proficiently create amazing designs with mind-blowing colors to suit all types of roofs. Steel offer low-hassle and last long if maintained well. Double coating glaze on Steel roofing is important as it inhibits the growth of mosses, at the same time, enhances the appearance of your homes in the suburbs of Ferny Grove.
Based on needs, structure, and location of a building, our expert team offers suitable tile designs that protect you from extreme heat and cold conditions. We ensure that the outcome of the roofing product is three times better than your old roofs.
From conception to conclusion, we handle every phase, offering end-to-end project management. After thorough checking of your building plans, we provide free quotes before initiating the project.