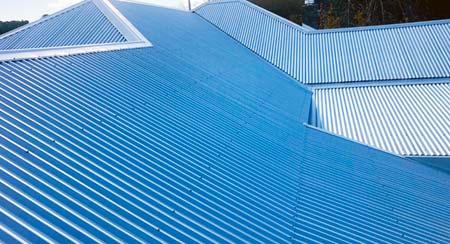 Annoyed of old and faulty metal roofs giving an unappealing sight to your home in Gold Coast? These types of roofs can cause huge liability if left unnoticed. High End Roofing specialists have a very rich and boasting history in shielding your buildings against Gold Coast weather with metal roofing. The roof is the most important aspect of any building, offering better protection to roofs with right roofing material to protect you, your family and home.
Metal roofing is made of galvanised steel, Zincalume, Colorbond & Stainless steel. Our talented team understand the important features of metal roofing and offers a reliable solution after analyzing the climate and structure of a building. Made of superior quality materials, offer extraordinary protection against torrential rains, hailstones, stormy winds, and heavy snow loads.
We work alongside builders and engineers to improve the appearance and functionality of your home. You can witness the comfort of modern metal roofing that is an experience of an increased level of security to your home. Our construction team begins the process of installing a metal roof system with roof anti-con blanket for thermal properties and to achieve specific R-ratings. We create guttering styles to integrate corners and joints and a precision completion to your roof. Finally, metal roofs are laid to provide excellent finishing.
Flawless Metal Roofing
The metal roofing offered by the High End Roofing firm is highly resistant to corrosion and prevents pest formation and makes it a perfect choice for roofing in Gold Coast. Our team of specialized roofers is highly capable to install metal roofs on small and large buildings.
Our skilled craftsmen astutely reshape the roof of your home and help you experience the sumptuous look of your home. Available in diverse style, color, and pattern, you do not have to take a risk of painting your roof frequently, saving your cost. To keep you warm in winter and cool during summers, we help you choose light and dark-colored metal roofs.
Well-planning, installing, and delivery of the project undertaken by our team ensures to unleash your dream home.
With many years of experience, we have developed in-depth knowledge to provide an unrivalled service to industries and residences of Gold Coast. Our team emphasizes on using quality metal roof sheets for lower maintenance costs and long-lasting protection.