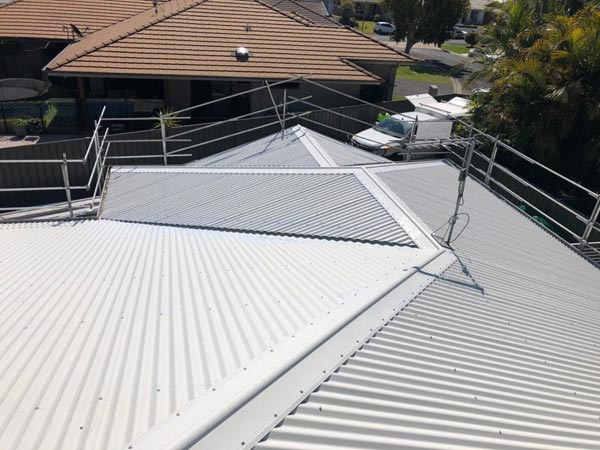 You can put an end to roof leaking and noisy roof by hiring a roof restoration or roof repairs expert in Mermaid Beach. High-End Roofing team will restore your roofs brilliantly. If you need roof repairs in Mermaid Beach, you can turn to us with your concerns and our affordable solutions will not allow us to rethink of another firm. With over 20 years of experience in offering custom solutions to restore roofs of any building, we introduce creativity and credibility to our products. Additionally, we provide the best expert new roof installation services in and around Mermaid Beach.
Available in a gamut of color range, our new roof installation services can be extended to residences, commercial, shop owners, corporate companies, SME firms, health care sector, warehouses, and other industries of Mermaid Beach. We deliver efficient solutions considering the climate, location, and other elements. Investing in roof repairs Mermaid Beach can provide a significant difference to your home compared to other neighboring homes. We are the licensed professionals to offer new roof installation in Mermaid Beach to conceal unseen holes and leaks of roofs. Aimed at delivering affordable and credible solutions, High-End Roofing solutions at Chermide maintains punctuality and delivers the most excellent job.
Our team pressure clean, repair, installation, and re-seal your roofs with utmost care and accuracy. In case, if we find that roofs are beyond repairs, our team inspects and advise you to install new roofs that are highly durable and worth your money. Repairing a roof requires an experienced specialists and a high-level of dexterity to make sure that the task is accomplished proficiently.
New Roof Installation Mermaid Beach
With an exceptional team of roofers, we cover all aspects of roofing needs, ranging from cleaning, repairing and installation. We use superior quality installation to provide an unrivaled experience. You will be surprised to see your elegant roofs. Get your roof upgraded before it is too late to withstand extreme Mermaid Beach climate.
Old and cracked bedding is a common sight in Chermise building. High-End Roofing team makes sure that all cracked and broken tiles are either repaired or replaced with new bedding to get nice ridges for perfect finishing.
Roof gutters are the water discharging systems to discharge water when it runs down from the roofs. Roof gutters are commonly referred to as valleys and they rust with age. Our Mermaid Beach team ensure to replace the rusted valleys with top quality material that ensures to protect your roof for years.